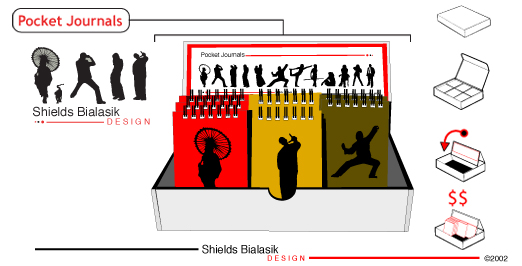 The creation of the pocket journals was probably one of my favorite projects in the time frame of my journal and greeting card business. I was always saving and collecting scrap paper from all the products I was making.
My standard  sized journals were cut in a certain way that they left enough scrap paper that I eventually decided to do something with it by creating these little pocket journals. I also had boxes full of leftover pieces of binding wire. Specifically a 3 inch piece left over from each of the large journals. I  had probably 300- 400 sets so that is a lot of journals which got made.
This became the spine to the pocket Journal. I practically never wasted any paper or binding wire at all and I was always making efforts to make new and interesting products with whatever materials I could find and of course make money.
Once I decided to make the pocket journals, I needed to find a way to market them. So I took a trip up to West Coast Paper in Medford, Oregon and found a great packaging box which you can see here displayed an illustration. The box contained the journals and then popped open to be the display as well.
Lastly I needed some images. I've always loved stencils and the image of human silhouettes so I quickly designed a series of about 30 different silhouettes which were then used on these pocket journals. You can see and buy the original silhouette images from my archived site. http://www.vectorsilhouette.com
I think it was these original pocket journals that sparked the idea inside me of doing an Obey Giant Journal. I actually had created a pretty cool little Obey Giant scene which I had e-mail to shepherd at the time. I saw a copy of it recently, so once I find it I'll post appear in this category.
(((Shields Post Obey Giant Mock Sample)))
The pocket journals were a great seller and because everything was made out of scrap material which I was buying anyways it was a real winner once they had been invented.