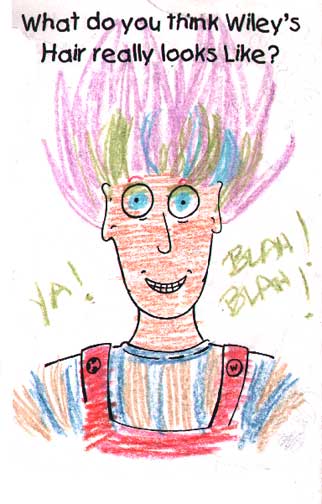 This project has a funny story. At the time I was actually making noodles as the pasta maker at Wiley's World in Ashland, Oregon. My dad had come to visit me and we were hanging out in the restaurant and making some jokes.
Terry Wiley, the original founder and my boss at Wiley's world; was a real character. He was always up to some type of prank or nonsense with me. Lighting bottle rockets off and then throwing them into the small 4 x 8 pasta making room. We were always laughing and having a good time.
One time I remember Terry was in the kitchen cooking and I had gone upfront to to take some fresh pasta. A friend of ours named Cedar was in the restaurant and had just ordered a meal. I think I was helping Wiley wash the lettuce and we found this giant slug in it. We decided to hide it in Cedar's dinner salad and then deliver him his lunch. He didn't notice it right away, but when he did he was thoroughly disgusted. We were laughing like crazy.
We were always doing fun and crazy things which I'll tell you more about later as this story is far from over.
So my dad and I were sitting in the restaurant. Terry Wiley always was wearing his pasta making chefs hat which basically covered his totally bald head, but no one would ever know because he would never take the hat off during work hours.
So, I said to my dad.
"I wonder what Wiley's hair really looks like?"
He was like…"Gee… I wonder… who knows?".
Then I thought, hey, I should draw a picture that and make a kids menu, so I did.
The rest was history and needless to say never in my wildest imagination did I imagine 40,000 copies later that I would be sitting with my own children in Wiley's World wondering what Wiley's hair really looked like and coloring in our own pictures.
More on this story soon, as I will share the story of how I created the now viral Wiley's Magnets as well as discuss the launch for my upcoming kids book series.  One hope we have around these crazy Wiley hair images is to create a giant art showing of all 40,000 which my friend Julie Wiley has saved!
Now you know… and this is just the beginning of the adventures to come!